Spirit of The Union Pacific Loco & Box Car
Order NOW – First Come – First Served
In 1943, a Boeing B-17 was christened as Spirit of the Union Pacific, recognizing employees of the Union Pacific Railroad who funded the airplane through war bond contributions. The Spirit of the Union Pacific was assigned to the 571st Bomber Squadron and shot down on its fifth mission during a raid on enemy installations in Munster, Germany.
In 2017, the Union Pacific applied a special paint job to SD70AH #9026 as a way of honoring the armed forces. Every detail in The Spirit's decoration incorporates a piece of each U.S. armed forces branch. The Spirit's front is symbolic of Air Force Silver, and the blue stripe is a reflection of the former Strategic Air Command's "nose sash". The lettering inside the sash is the original hand drawn font used on the B-17. It is followed by the Coast Guard's "Racing Stripe" and the Navy's Battleship Gray, which frames Union Pacific's traditional American flag. The military camouflage is a nod to the Army and Marines. As the train passes by, the final message on the tail is dedicated to U.S. prisoners of war and those missing in action, featuring the POW/MIA symbol and its motto, You Are Not Forgotten.
Our Lionel Spirit of the Union Pacific #9026 features all of the standard Lionel Legacy features that are included in Lionel's regular Legacy locos. Please, do not delay; order today. You can also order online and pay with your credit card or PayPal.
Available exclusively from METCA Division.
order online...
Click here to preorder online. To be delivered by the end of 2018.
(99 cent convenience fee applies)
or order by mail....
Download the Spirit of Union Pacific Loco & Box Car Order Form here!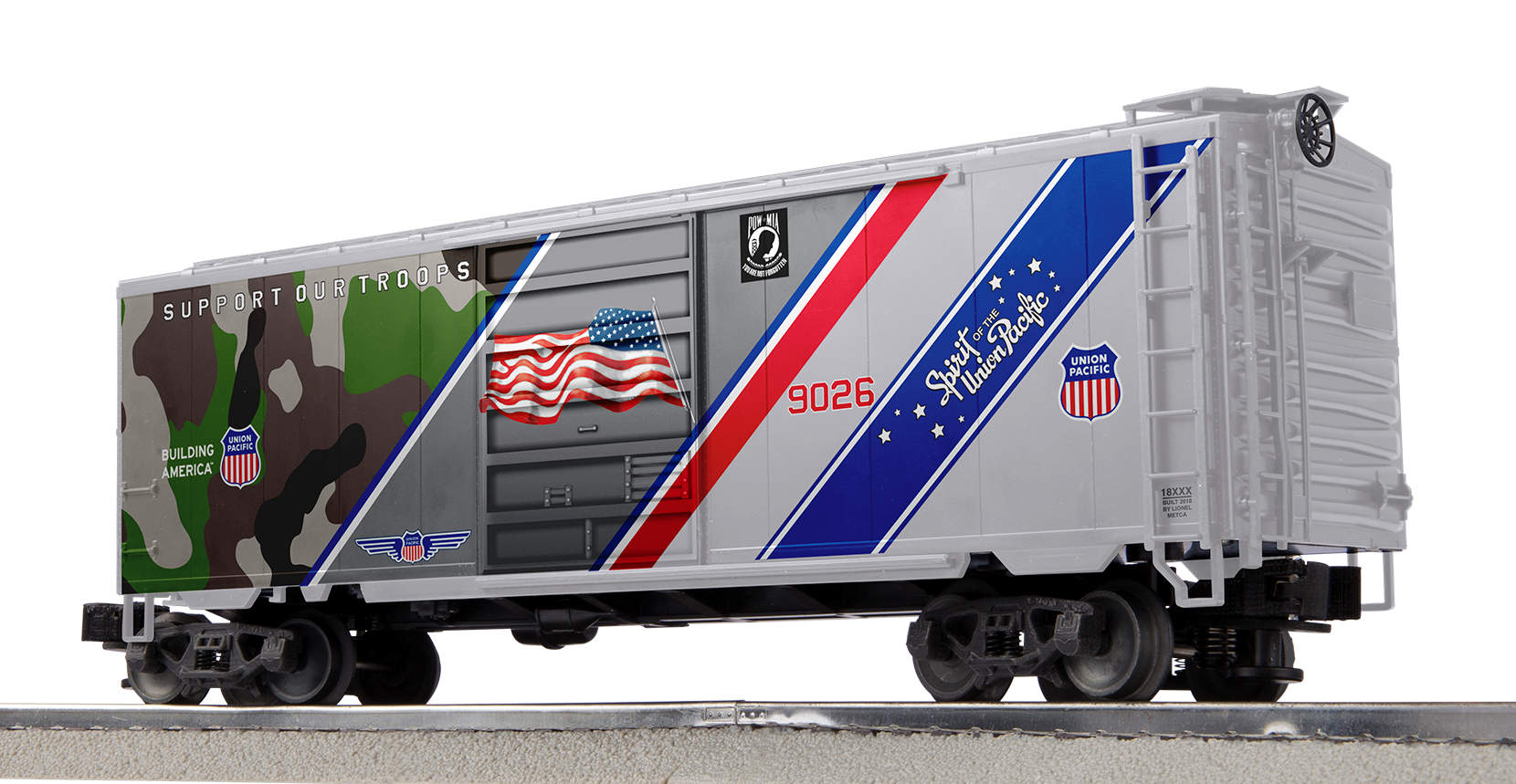 .
(Click picture for larger image...)