The METCA Rahway Valley Box Car
Order NOW – First Come – First Served
The Rahway Valley Railroad (RVRR) was a short-line railroad in the Northeastern United States which connected the Lehigh Valley Railroad in Roselle Park and the Central Railroad of New Jersey in Cranford and with the Delaware, Lackawanna & Western in Summit. Operating over a span of 95 years (1897–1992) in Union County, New Jersey, in its prime it was one of the most successful short-line railroads in U.S. history, turning a profit during the Great Depression. During its lifetime, the RVRR was instrumental in the development of Kenilworth (site of its headquarters) as well as Union Township, Springfield and other towns along its route. The RV 'Superman inspired' logo was adopted in the early 1980's when Bernie Cahill, President of the RV, leased a large group of new boxcars from ITEL Rail Corp. As an interesting footnote, Walter M. Matuch of RMT, then a college student, worked on the RV as a brakeman in the late 1960s. The car, made by RMT, features a stamped metal frame, metal brake wheel and die-cast trucks. Please, do not delay; order today. You can also order online and pay with your credit card or Paypal.
Available exclusively from METCA Division.
order online...
Click here to preorder online.
or order by mail....
Download the METCA Rahway Valley Box Car Order Form here!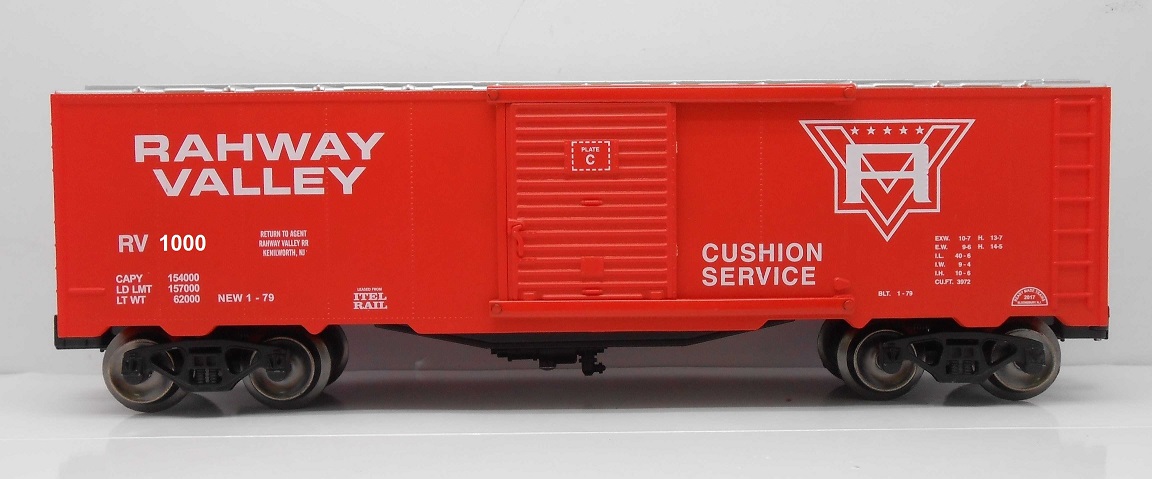 (Click picture for larger image...)